The first of its kind. An incredible protein packed spread inspired by the guilty pleasure of cookie butter. We've removed the guilt portion and all you have to do is add water.
Enjoy your choice of either (or both) Golden Cookie Sandwich and Cookies & Cream Protein Cookie Butter™ as a spread, filling, or reinvented completely with our world-class recipes.
With as little as 45 calories and up to 8g of protein per serving, we might have just made peanut butter, PB2 and regular cookie butter irrelevant to you. But don't take our word for it.
Crush your cravings today!
FOR A LIMITED TIME ENJOY OUR LAUNCH PRICES!!
Protein Cookie Butter Powder™
What people are saying...
"It's delicious! I don't have to go through any hassle of adding separate ingredients!"
"I'm hooked. I've always enjoyed cooking, but it's more fun when you get a filling amount of food for something that is so macro friendly and looks and tastes just as good!"
"I loved it!! Reminds me of PB2 but BETTER. I LOVE the Cookies and Cream flavor. Great work and I'm stoked to use these in different ways."
"Love the flavor and the boldness! Also that it's not too sweet. Great job!"
"Sweet, not too sweet. Good consistency, not grainy. No protein aftertaste!"
"SOOOO GOOD! You guys did an awesome job!"
"Made a no bake COOKIE BUTTER PROTEIN BAR! Wow, is all I can say. Zach, you nailed this!"
"Just finding all the ways to use cookie butter that I can. Yesterday I modified using the lions pack cookie dough pancake mix and made a cookie butter and protein cheesecake frosting sandwich with strawberries in side."
Not your typical spread...
This is NOT your typical powdered peanut butter or cookie butter spread.
When you purchase Cookie Butter, you will get access to our exclusive recipe book. You'll be able to make EVERY SINGLE RECIPE BELOW!!!
Just check a few of the possibilities and see if you can handle the macros on them!
Chocolate Chip Cookie Butter Pancakes
Macros for the Entire Stack:

474 Cals, 32g Carbs, 14g Fat, 55g Protein
Chocolate Covered Raspberry Jumbo Muffins
Macros for Each Muffin:

167 Cals, 17g Carbs, 3g Fat, 18g Protein
Classic Chocolate Chip Cookies
Macros for One Cookie:

77.5 Cals, 6.5g Carbs, 1.5g Fat, 9.5g Protein
Chocolate Covered Raspberries Cookie Butter Waffles
Macros for Entire Stack:

416 Cals, 12g Carbs, 33g Fat, 44g Protein
No Bake Birthday Cake Golden Cookie Butter Truffles
Macros for One Truffle:

105.25 Cals, 10g Carbs, 3.25g Fat, 9g Protein
No Bake White Chocolate Cookies & Cream Cookie Butter Bars
Macros for Each Bar:

169.25 Cals, 16.5g Carbs, 5.25g Fat, 14g Protein
Chocolate Sea Salt Protein Cookie Butter Oatmeal
Macros for Protein Oatmeal with Toppings:

534 Cals, 72g Carbs, 15g Fat, 30g Protein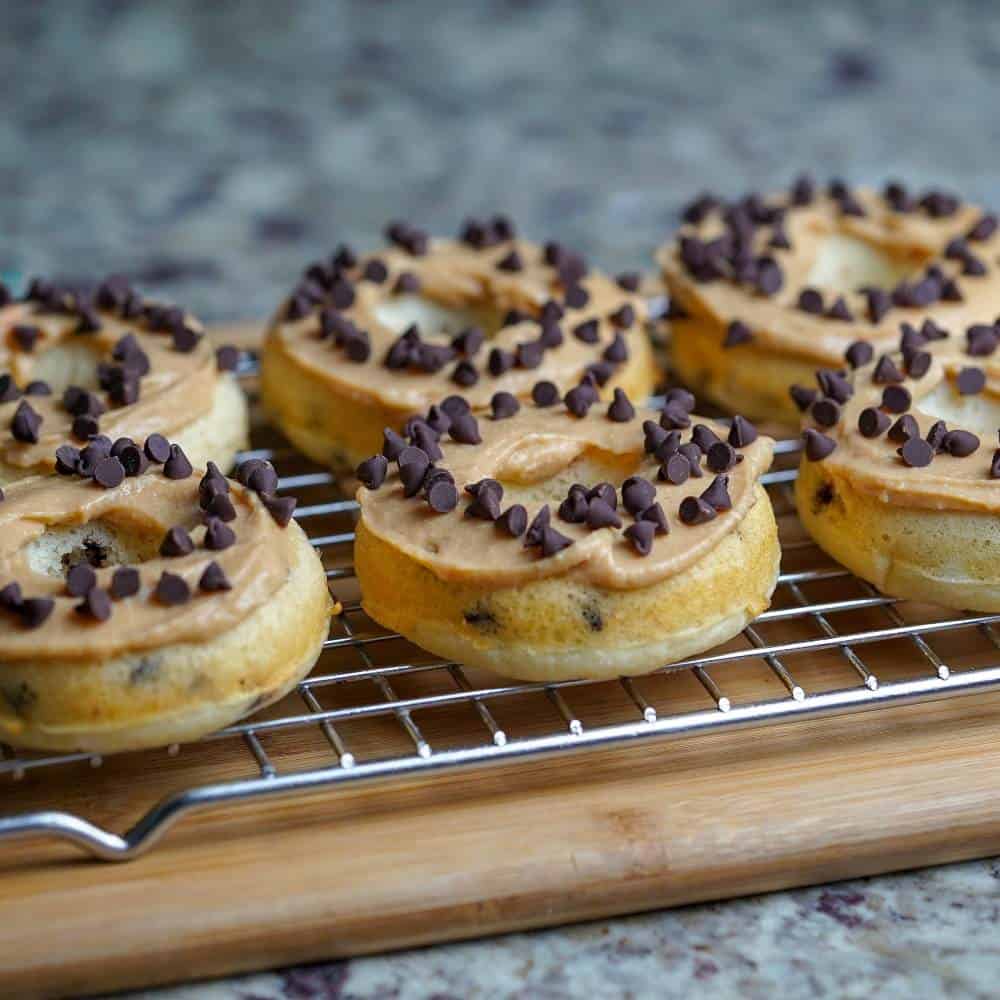 Chocolate Chip Cookie Butter Frosted Donuts
Macros for Each Donut:

85.5 Cals, 7.5g Carbs, 1.5g Fat, 10.5g Protein
Nutrition Facts to Blow Your Mind, NOT Your Macros